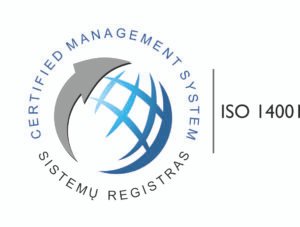 UAB RB BALTIC was established in 2006. By working reliably, responsibly, and stably, we have earned the trust of both our customers and our partners. This allows us to maintain reliable relationships with leading equipment and technology suppliers in Germany, Austria, Italy and their products, to adapt and offer technological solutions to our customers in Lithuania, Latvia and Estonia.

Our strength is an integrated approach to waste recycling solutions. From the very beginning, we have formed a solid product range for waste collection and recycling, biofuel preparation, and plastic recycling. We constantly fill, nurture and adjust the product range to the needs of the market. We offer only the most efficient waste management and sorting and recycling solutions for your business and home.

We supply waste collection, pressing, shredding, composting, sorting and granulation equipment for recycling.

Our technical service and maintenance department reliably ensures that the equipment purchased by customers serves the highest requirements. We provide qualified service, warranty service, post-warranty service. We supply spare parts. We provide qualified advice and technical support.

The goal of our work and solutions is to implement the idea of zero waste. We ourselves use and offer our customers compost bins and waste sorting containers because we believe that an ecological lifestyle starts with everyone.
Equipment sales
Mobile equipment for biofuel production, compost preparation, and screening. Stationary installations and lines for waste sorting. Presses for sorted raw materials, washing, and granulation of plastics.
Underground and household containers for various wastes.
Project solutions
The solutions needed to develop a sustainable (green) business and a circular economy are an essential part of our business.
Solutions for food recycling, sewage sludge composting, renewable biofuel production, and plastics recycling are our tasks.
E-Shop
An e-shop has been created for your convenience, where you can order only goods imported by our company, directly from German and Italian manufacturers.
We guarantee their quality!
Tested, verified, reliable!
Our Service
High-quality and efficient waste management, sorting, and recycling equipment.
Products range from waste collection containers and biofuel shredders to sorting lines or plastic recycling lines.
After-sales service
The manufacturers we represent have thought of reliable technologies that will make your daily life and work processes easier.
When you buy equipment or machinery from us, you also receive a package of warranty maintenance services.
By ensuring timely and proper warranty service, we ensure the proper operation of equipment and machinery.
After-sales service
By extending the professional service of the equipment after the warranty period, you ensure the perfect condition of the equipment and long service life.
It's worth doing because keeping it in perfect condition will protect your investment and have a well-functioning machine or facility.
Repair of equipment and machinery
Take your time and our mobile service will take care of any deterioration in the equipment or machinery used.
If you need to deliver the device or equipment to our service, but you do not have the opportunity to do it yourself, call us or register an inquiry online, we will help solve all problems.
Equipment rental services
We rent presses, mobile screening machines, wood chippers, and other equipment.
Screeners for rent
Need to clean up the black soil, sift the compost, sort the chips or coal, separate the biodegradable fraction from the rubbish mass, and sift the gravel or crushed stone?
Our rental drum screens can do that.
Shredder rental
Prune, tidy up, but a bunch of branches looks insurmountable?
The Först wood and forage shredder, a powerful and aggressive machine with its own engine, will do it faster than you expect. Rent a Först ST6 shredder and make sure.
Press rental
Do you have small quantities of raw materials – paper, cardboard, film and want to organize and sell them?
A rental press is an opportunity to get started.
We rent hand-loaded vertical presses.
For rent of other presses, press containers, please inquire.
Our partners
These are our partners and their brands, which we have officially represented in the Baltic States for many years and consider it an integral part of RB BALTIC's identity.


Implemented projects
Every customer is important to us, so we are happy with the completed projects and are always ready for new individual solutions